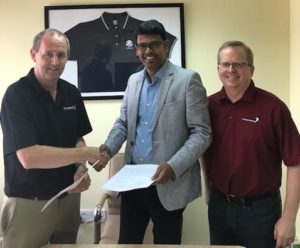 We've kicked off The Abu Dhabi International Petroleum Exhibition and Conference (ADIPEC) week with flying colors and are excited to announce that IRM Offshore services joining to TorsionX Family as our distributor for Qatar.
IRM will be offering the full range of TorsionX tools on a Sale, Rental and Service basis allowing them to effectively support all the local customers and deliver the same levels of service as our other distribution locations.
Present at the contract signing was Jaison Francis, Managing Director of IRM, along with Mike McCown, the President of TorsionX. The IRM Team can be reached on info@irm-offshore.com or visited at www.irm-offshore.com.