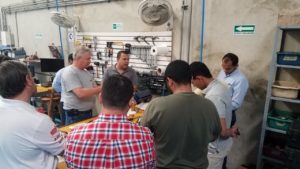 TorsionX shop manager Dave Miller and president Mike McCown were in Colombia recently providing training on TorsionX tools and pumps to the staff of our distributor in South America TorsionX SurAmerica and Mocer.
"We had a great couple of days working with several of our distributors in South America. We would like to thank everyone from TorsionX SurAmerica and Mocer for having us. Providing training for our distributors is very important, but it's always great to catch up with everyone too. We always enjoy our time in Colombia and look forward to coming back," McCown said.
TorsionX isn't just about selling tools, but it is about relationships. Our distributors and customers are our family.