HexPro Series Wrenches are essential tools for limited clearance applications. The versatile HexPro Series supports an extensive range of interchangeable hexagon ratchet links that deliver a torque range of 150 ft-lbs. to 30,000 ft-lbs. Made in the USA.
MaxDrvSeries Square Drive Torque Wrenches offer a compact design, constructed of aluminum – titanium alloy and super high strength steel alloy for increased strength and durability while minimizing the weight. The MaxDrv Series is available in an 64 ft-lbs. to 18,446 ft-lbs. torque range. Made in the USA.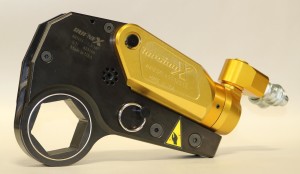 When you need to get into tight spaces, the RufNex is the way to go.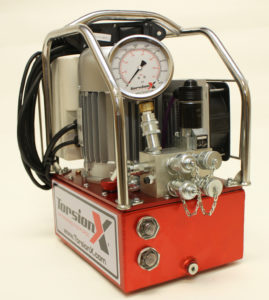 Powerful and reliable when your job demands it. TorsionX offers a full line of torque pumps and associated equipment available for sale, for rent or lease along with full service options. All pumps are 10,000 PSI, and are available in electric/hydraulic or pneumatic/hydraulic operation.
Twin Line Hydraulic Hoses, 10,000 PSI Gauge, and Hydraulic Oil